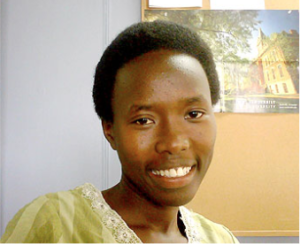 Rosine was one of Dennis Hanno's first students in the Academy run in Rwanda. Below is her story based on an article in The New Times Rwanda: How selling fruit led to a full scholarship to Babson College
In May, 2011 Rosine Ndayishimiye and 10 schoolmates initiated the first entrepreneurship club at their school, Lycee de Kigali.  She launched the club after taking the one week intensive Entrepreneurship and Leadership course run by Dennis. She credits that experience with setting her entrepreneurial mindset in motion. Four months later, she started a business of selling fruits—avocados and bananas.
"We did a mini market research among students by giving them questionnaires to answer. Our research revealed that students needed healthy and cheap appetizers with which to supplement the school food. We then asked for permission from the school administration, pooled resources and started the business."
Each member came up with an initial contribution of at least Rwf 2,000 (2,000 Rwandan Francs, or approximately $3.00), and together they managed to raise a total of Rwf 28.000 ($43.00). In the beginning, they sold 16-30 avocados per day. Now the club sells at least 200 avocados daily. That is a profit of Rwf 1 million per year (about $1,500).She notes that the club has since grown from the initial eleven pioneer members to fifty.
Thanks to her efforts exhibited through the school entrepreneurship club, Rosine was selected from more than 1,200 applicants to be one of 23 Bridge2Rwanda Scholars. The B2R Scholars Program is a gap year program that helps the best-performing Rwandan students win scholarships in top institutions in the US, Canada and Europe.
Through her hard work and perseverance, Rosine secured a full scholarship to Babson College. She has fully incorporated the teachings into her thinking. "The whole idea is really to inspire persons from all walks of life to see the hidden potential in entrepreneurship, and also to realize that it is always possible to begin from somewhere, with or without money. "
"Being self-employed gives one the independence and flexibility in one's decision making. Though it might be challenging, it gives one employment and other people too. It is not just one person to benefit, but the whole country; it reduces unemployment and hence other people's suffering is eliminated or reduced."
"Every day that I wake up, I take some time to pray, think about what God has done for me, and plan for the day. I read an article or a book. I prepare myself and then go to school. When I go back home, I greet everyone and ask about how he or she feels; I feel that it is important for me to relate well with my people. I exercise and then have super. I pray with my family, read the Bible and go to sleep."